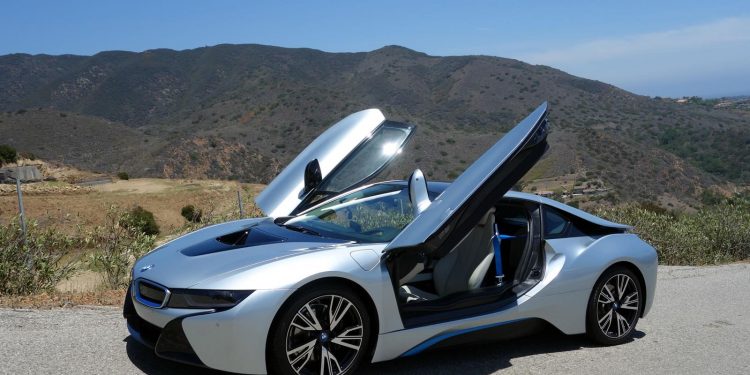 BMW i8 is an extraordinary sports car symbolizing a revolution in the engineering intelligence of Luxury vehicles. This car is convenience exemplified and is a technology hybrid able to maximize the best output of all-electric motor and fuel engine. Thus, in addition to performance and looks, the makers do have done their bit in saving environment by making this Luxury sports car partially green. BMWi8 is an innovation translated into a sports car with futuristic features. Rightly called as the 'Sports Car of the Future', well said in a tag line 'I am the Future, I am BMW i8', this car is certainly what Luxury and Convenience actually means.
Some of the features that make BMW i8 the Sports Car of the Future are:
Plug-in hybrid car where both the electric motor and Twin Power Turbo fuel engine are provided. So, the user masters the car completely and not the fuel type.
A total system output of 420 lb-ft of torque and 357 horsepower is translated into the fastest acceleration where the car reaches 0 to 60 mps in just 4.4 seconds.
Perfect Sports Car for the long roads, this car delivers the coverage of 47 kms in a liter making it one of the most nature-friendly, fuel efficient four wheelers.
Flexible aerodynamics is achieved by use of lightweight materials made of Carbon Fiber Reinforced Plastic (CFRP)and aluminum.
EfficientDynamic ventilation technologies go into the development of its ventilation system and Air Curtains at the front regulate airflow keeping the engine placed at rear cool, thereby making this car the 'coolest' Luxury on the road in literal sense
Scissor doors, short overhangs, long wheelbase and mirror finish, clean silhouette appearance make the exteriors of the car amazingly eye-catching and give it a lively appearance.
This 2-door coupe is a delight for fast car lovers as it does not carry much weight, still is filled with unmatchable power.
2015 was the year of BMW i8 launch and it has exceeded the expectations of the elites who are always looking for something extraordinary to flaunt as well as experience. It was first introduced as Turbo Diesel Concept car at International Motor Show Germany in 2009 and has acquired various fabulous features becoming the BMW i8 of the present times. This concept car is the finest example of German car engineering technology and is sure to rule the roost for years to come.