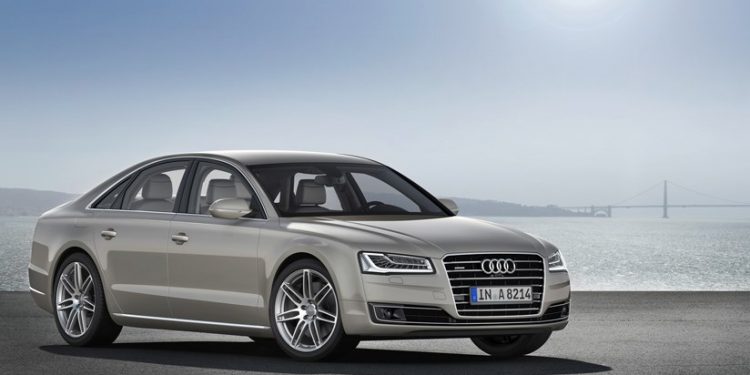 Audi A8 is an underdog in the world of German luxury sedans because of its not-so-loud looks but unmatched power-packed performance. Bestowed with an athletic design and impressive exterior, this high performance sedan stands out in quality and reliability. This luxurious, sturdy yet elegant sedan has a number of reasons to make the sedan aficionados fall in love with it. Spacious, sleek, cleanly carved and assembled with magnificent intelligence, this Luxury car is worth every figure that appears on its price tag.
Audi A8 is the best thing happening to car loves because of the following features:
This big thing has some of the best features like 450 hp, impeccably designed interiors as well as exteriors and butter smooth experience on road to offer to the Luxury sedan lovers.
Singleframe® grille, dynamic structure and signature LED illumination make this car an apple of everybody's eyes. This car stands out brilliantly in design and gives you an experience rather than an automobile.
Exemplary Quattro® all-wheel drive gives the occupants a floating experience and the light weighed parts add to the jittery feel giving a feel of ultimate excitement to the user
Available in two supercharged engine types -  333-hp TFSI® engine or a turbocharged 450-hp TFSI® V8 engine, this car is a great fighter and makes you feel supercharged when you are inside this powerful companion.
This car is amazingly driver-centric and a whole gamut of controls is provided within friendly reach to the driver who loves to keep his vehicle in control. The driver may find top and corner view camera for assisted parking making such tedious task nothing more than a cakewalk.
MMI navigation and AudiConnect keep the driver always informed about the destination and surrounding area. Wi-Fi hot spot allowing 8 devices to connect make this car the best in terms of connectivity.
Hand-stitched leather, spacious rear cargo space and ample space for 5 passengers make this luxury sedan a true family car, providing ultimate moments of togetherness, fun, and above all safety on the road.
Audi A8 is the boldest of all A-series sedans and is designed to take away full control from the driver with technology-laden driving features. Ultimate cruise control, self-drive and sensors make this Prologue concept inspired car a delightful companion for a beautiful long drive. Price starting at around $83,200, this Luxury sedan is the result of the finest imagination and realistic innovative approach of American car intellects.