1448, Queens Way, LA, United States – Beautiful Sunset Point Adorned with Spanish Majesty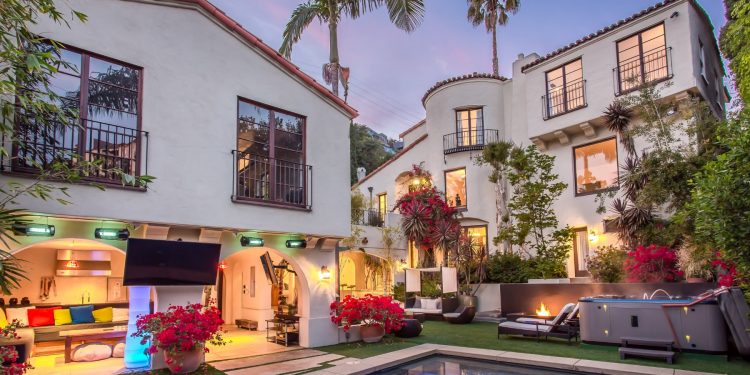 A well-built property designed in great Spanish style home is a luxury that everybody dreams to possess one day. 1448, Queensway, LA is a master piece built with supreme excellence and is made absolutely delightful with a number of sophisticated features that define the concept of modern living. It is a 3-floor plan stretched over 2 lots comprises of 4 bedrooms and five baths and located in the sumptuous location of posh Queens Way which is the home of achievers and newsmakers.
This luxury house built on the concept of Spanish Hacienda is located in the North of the Sunset Strip and occupies the heart of LA where luxury living is a norm. The closer inspection of the three levels of the house reveal that the main level is for family living where Viking and Sub-Zero appliances are decorating the spacious bedroom, dining space, family living room that extends to a tasteful patio. A custom Chef's kitchen and separate dining area make this portion the focal point of the house.
The next is lower floor which is divided into a home theater and adjacent guest room. Talking about the topmost level, i.e. the upper floor, at the level higher to the main one, features two bedrooms with private balcony and a master bedroom with a large closet and attached Jacuzzi bath area. All the floors are designed with unparalleled perfection and have loads of wow factors to offer to the inhabitants and visitors as well.
This house has a resort-like magnificence and has a sumptuous range of outdoor recreational applications such as grass shower, pool, outdoor kitchen with Viking stove top and hood, and multiple reclining chairs and chaise-lounges arranged in beautiful settings. A perfect place for hosting outdoor private parties and having leisure own time! This luxury multi-storey villa has each portion very cleanly built in a way that gives way to a number of city views, allowing the owner to have a special place form himself to rejuvenate, relax and of course, live with full enthusiasm for life and luxury lifestyle.
Being located on the sunset strip, this property provides elite views of sunsets and offers a magnanimously designed abode to stay, giving all the luxury and comfort that your money can buy you. Priced at $5,555,000, this ultimate destination of grandeur lifestyle has easy access to the city life and is one of the very few Spanish charmers situated in Queens Way, LA.