Luxury All-Inclusive Vacation Package – Namale Fiji The Fun-Filled Rejuvenation Tour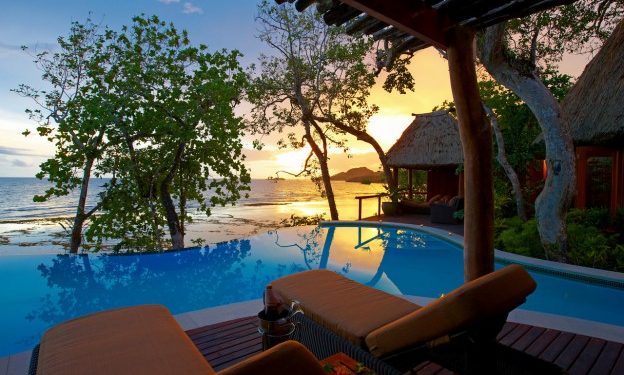 Traveling to an unknown destination is the best way to regain the energy and enthusiasm that one requires for keeping with the fast paced life. That is why; tourism is one of the largest revenue generating sectors in the world and flourishes solely on the human desire to explore the unknown lands. Adding a seasoning of luxury in the vacation package makes it once-in-a-lifetime experience; isn't it what the memories should be made of?
Namale Fiji is a romantic gateway that one must visit once. This beautiful part of the world can be explored better with 7-night-all-inclusive package that involves:
Two way airfare from Los Angeles on Fiji Airways
7 nights stay at Namale Resort and Spa in a Garden Tropical Bure
All meals including lunch, dinner and snacks and beverages comprising of finest of Wines, Champagnes, Beer and other Liquor on the house
Romantic and private experiences from Legends Exclusive such as

Welcome drink of Champagne in bure
Private room service dinner in garden below the starry sky (once)
Private lunch at waterfall site during stay
Exclusive horse riding on the beach
One hour in Hydro-Therapy room at the Namale Spa
Personalized service such as names etched on native palm wood and hung on the room door
10% off on spa treatments
Exclusive personalized turndown service for the couple on the last night of their stay
Namale resort and spa is one of the best rejuvenating spots in the world and if your aim is to celebrate the just earned milestone and wind yourself down at the end of a hectic schedule. The visit to this resort is certainly the major portion of the vacation as the resort is built in close proximity to natural settings such as gardens, waterfalls etc.
The Fijian hospitality at its best is observed during this stay when they serve their guests the homemade cookies all seven days during the visit. The tourists get complimentary Wi-Fi in the bure and seamless transfer of luggage, etc. is the responsibility of the staff completely.
Priced at $4399 per person, this vacation package is worth considering for honeymoon, weddings, and anniversaries and for making the proposal moment absolutely romantic. Also, when you just want to rejuvenate with your special person in private, this luxury vacation package is worth every dime spent. This is the offer price available till March, 2017.