RADO HyperChrome Automatic Diamonds Review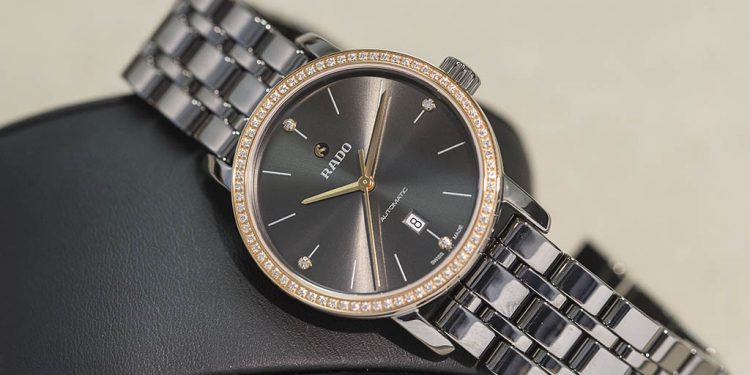 When light color is your choice in dials, RADO HyperChrome Automatic Diamonds is the perfect watch for you. This stupendously attractive watch is a royal visual treat and possesses all beautiful features that romantics at heart look in their accessories. Powered with the longevity of Stainless Steel, High-Tech Ceramic case and bezel, this watch is certainly a show-stopper.
Gemstones are everybody's favorites, and why shouldn't they be? After all, they bring luck, positivity and certainly lots of compliments! So, won't it be fun if you find them in something as stylish as luxury watch? RADO gives you a bevy of watches that make splendid use of Sapphire and diamonds, certainly a gemstone fan's delight!
RADO HyperChrome Automatic Diamonds has milky white dial, giving it a pristine look that is too hard to ignore. The ceramic bracelet and transparent Sapphire case back makes it a thing of luxury. RADO watches stand for grandeur, for magnificence and of course, for longevity. These beautiful keepsakes remind you of heirloom quality bracelets which are given added duty of telling the time, besides adorning your wrists with something terrific.
Highlight of the RADO HyperChrome Automatic Diamonds is the rim of the dial, which is studded with 0.834 ct diamonds, 56 in number. This watch exudes opulence from each part and is certainly a pricey possession but for a reason. That is why; this luxury watch from RADO makes a fabulous anniversary gift too, when jewelry fails to impress your beloved.
Not only does the watch tell you time, it also conveys you information about the date through a small, automatic slider opening into a square display. Sapphire crystal with anti-reflective coating is used for making the upper cover of the dial allowing you to gaze through a rarity every time you look into it for checking the time.
The bracelet of this magnificent watch is an iconic extension of the brilliance that this watch is known for. Made in high quality, sturdy yet very visually appealing high-tech ceramic, the bracelet is a treat to touch and stays on the wrist stylishly. Titanium clasps offer added sturdiness making it a thing of long-lasting affair.
RADO watches meant for women are sophistication unleashed and have a feminine elegance that complements their beauty and enhances it amazingly. This thin line series RADO HyperChrome Automatic Diamonds watch is worth all the admiration considering the dedicated, unparalleled craftsmanship that goes into the making of this master-piece. A perfect accessory with ultra-smart features!