Rolex Oyster Perpetual Day-Date Review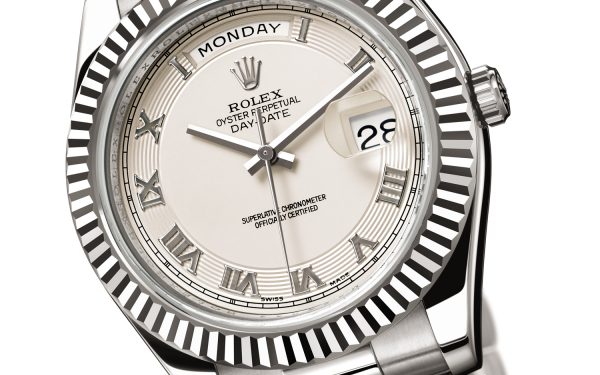 Watches are believed to be mainly a convenience and helping instrument, but when your take a look at Rolex watches, you come to know what grandeur means. Some devices just deliver what they are expected to do, while others become a part of your personality and spring up to become the symbol of status, Rolex Oyster Perpetual Day-Date fits both the bills perfectly.
Popularized as 'President's Watch', this watch has come a long way and the journey has been exemplary, the least to say. Now, when Rolex Oyster Perpetual Day-Date is celebrating its 60th anniversary, taking a look at why it is called a Luxury Watch seems to be a natural process.
To start with, the watch is a statement maker because of its exemplary green dial, which has become more of a trademark than a mere specification. And the fun has just begun! This watch is made in 18K Gold or Platinum, something that is surely going to raise many eyebrows, or may send jitters down the spine. But, this is the truth that a Rolex watch maker is surrounded by Gold and Platinum always, busy in giving shape to a master-piece. Rolex Oyster goes further in elegance and is made in pink gold.
Rolex Oyster Perpetual Day-Date does not tell time only. As the name suggests, it clearly tells date and time in full text through two windows carved on the dial. Rolex dials are splendid work of excellence as these are purely handmade and the hour markers are also made tarnish-free by using pink gold as base material.
While you find it difficult to move your eyes off the legendary olive green dial, the President Bracelet characterized by three-piece semi-circular links keep you more glued to it. The statement maker bracelet was first manufactured in 1956; the quality remains as exemplary as it was at that time. The hand-selected precious metals go into the making and the watch is made to go through repeated and stringent quality tests to deliver what you find on the display box finally.
The watch has to be on move, it can never stop, everybody knows it; but very few know that the Rolex watches move on Calibre 3255 movement and are your lifelong companions because of patented technology that the makers employ in delivering unmatched resistance to shocks and magnetism. Do you need any more reasons to put it on your bucket list when you strike gold overnight someday?