Chopard Imperiale 28 mm Watch Review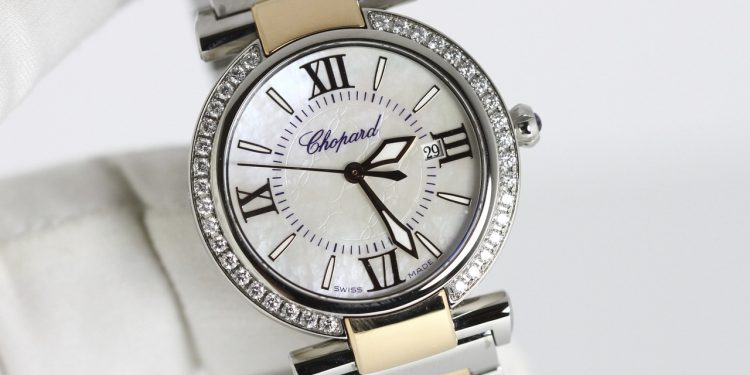 'I for Iconic, I for Inspiring, I for Imperiale' – This tag line describes Chopard Imperiale 28 mm Watch in the most precise manner. Nothing could be as ostentatious as this luxury watch that makes use of the most iconic materials that stand for timelessness. This Chopard time-keeper redefines excellence and gives amazing reasons to make the connoisseurs of beauty and quality fall for it.
Chopard is the brand synonym to paramount quality and offers fabulous products that have personality. Imperiale 28 mm is the perfect representation of quality that Chopard is known for and can suitably be recognized as one of the best luxury products produced by this timeless brand. Some of the iconic features that this trend-setting luxury watch possesses are:
Rose gold and stainless steel add unquestionable quality to the case and bracelet of this watch bubbling with enthusiasm from all the angles
Dial is given a touch of delight and immense luck with mother of pearl used as base material, a finest expression of lucky charm – this is what Chopard Imperiale 28 mm Watch can be aptly described as.
Rim of the dial is adorned with diamonds studded manually to impart this time keeper a genuinely majestic feel
Amethysts form the lug and crown and remind you of the timeless popularity of colored gemstones impressing the emperors since time immemorial. This watch with its limitlessly impressive components has a huge fan following and deserves all the love that its patrons shower.
The clock is wound in quartz movement style and gives the most precise time always. In addition to time, date is also displayed. Thus, the watch stands out in performance as well as in looks.
Water resistance up to 50 meters – completely water-proof time keeping solution that allows you to flaunt your style even in the swimming pool.
Chopard Imperiale 28 mm Watch is a must-purchase item when you want to ace the rivalry with style and confidence. This sturdy yet stylish, gemstone-studded watch gives you extra confidence and is a fabulous keepsake that you can cherish for years. Whether you are a business magnate or a high class aristocrat, this watch is worthy of becoming a part of your personality. Match it with the best clothing and you are all set to rule the scene. With so many delectable features, calling this watch an iconic, an inspiration is certainly not an overstatement.