Your All-Important Guide To The Different Wedding Traditions Around Asia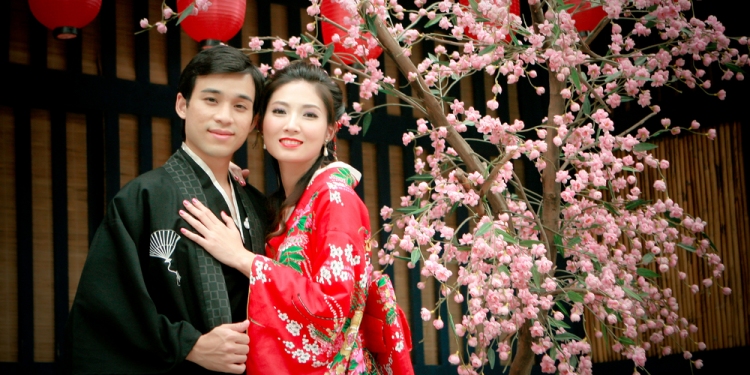 Asian weddings run the gamut from spectacular to simple, to very traditional to having smatterings of Western culture. But there's no doubt that if you attend an Asian wedding, you may be surprised at how unique and special it can be. If you're planning an Asian wedding, look no further – here's your all-important guide to the different wedding traditions around Asia. Who knows, you may want to incorporate some – or even all – of these wedding traditions in your own special day.
Wedding traditions in Japan
Japanese brides often opt for the traditional white kimono, called Shiro-Muku, particularly for the formal wedding ceremony. The Shiro-Muku symbolises maidenhood and purity, and it can be embellished with beautiful purple irises (the colour purple stands for love). The ceremony can be Buddhist or Shinto, and some traditional elements are also used, such as bamboo (representing purity and prosperity) and the mizuhiki (a knot shaped like a crane, which symbolises long life and prosperity). The groom and the bride also partake of sake a total of 3 times, each time from a different cup.
Wedding traditions in China
A typical Chinese wedding dress will be red since the colour signifies prosperity, luck, joy, and love, and most weddings will also have a red theme. The Qipao is the traditional wedding gown of Chinese brides, and it can be covered with embroidery in gold showing dragons, peonies, chrysanthemums, and phoenixes. In Chinese wedding tradition, the groom's family presents the bride's family with an entire roasted pig as a gift, and many Asian wedding venues today, even in the UK, can accommodate these kinds of traditional customs.
Wedding traditions in India
An Indian wedding can go on for days and has many rituals. The traditions for Indian weddings vary according to religion, ethnicity, region, and language, but most have pre-wedding rites. The Indian bride usually wears a brightly-coloured lehenga, which is also adorned with gold jewellery. Some traditions include the Mehndi (where the bride's feet and hands are decorated with henna), the Baraat, where the groom enters the venue on a white horse, and the Mangal Phere, where the couple walks around a fire (considered sacred) a total of 7 times.
Wedding traditions in Thailand
In Thailand, the national costume is also used as a wedding dress. For weddings, silver and gold thread is used, which makes the dress extra special. Before their wedding day, the couple is required to cook a meal for the monks in the local area, and the actual ceremony happens early – around 6 in the morning, where 9 monks bless the bride and groom. But the main event is in the afternoon, where the bride and groom's hands are connected with a flower chain and are soaked in water within a conch shell by the most important guests, accompanied by wishes of good fortune.