How to Celebrate Your Life in Your Home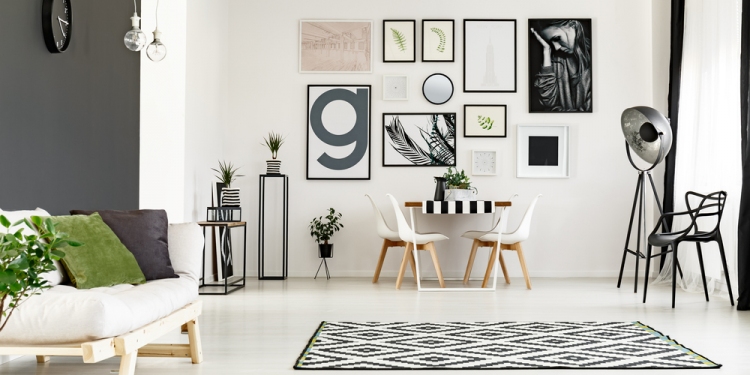 You're the only you. Nobody else has your hobbies, your friends, or your particular outlook on life. Whether you're feeling happy or sad, energetic or lazy, inspired or bored, you're always you. Your space should reflect that.
But you also want your space to look mature and elegant. When we fill our shelves with collectibles and cover our walls in loose photo collages and posters, we create a highly personalized space that may not actually make us happy. What we really need to find is balance. We want a way to personalize our spaces and celebrate our unique lives in our homes without creating spaces that make us feel stressed out, juvenile, or less soothed.
The wrong way to personalize space
When we're young, personalizing our rooms means filling them with things that we love. Toys, posters, books, perhaps even wallpaper or a border chosen for our favorite themes and things. This is what defines a child's room.
When we're older, personalizing our rooms still means filling them with things that we love — but if we don't update our techniques, we could end up undermining the purpose of our rooms. Take toys and knick-knacks, for instance. We tend to accumulate those as we age, and if you're not studious about removing some, you could end up with a cluttered space. Having too much on your shelves can make a room look cramped and can make dusting and other basic cleaning chores a nightmare.
Then there are the wall hangings. Posters and loose photos are dorm room staples, but they just don't look right in our spaces as adults. They can make us feel frustrated. Why can't we have the beautiful rooms we see on Instagram or in catalogs?
Design versus personalization
So what can we do? We can get rid off all of these childish things and fill our whole space with stuff from the Pottery Barn, sure — but is that wise? It's possible to go too far when making our space more mature and design-oriented.
We've all spent time in rooms that feel museum-like or clinical. When a room is decorated in a way that really feels like it has sprung to life from a catalog, that room can feel impersonal and boring. Rooms should be lived in, not displayed. They should be personal and should reflect our values, interests, and personal lives.
Design can overwhelm personalization, leaving you with a room that is all glamor and no personality. But you can marry the two and create a room that is both fully you and fully beautiful.
Personalizing your room in the right way
The keys to making your room personal and cozy while also keeping it beautiful and uncluttered aren't complicated. You simply need to have the right amount of personalization and present it in the right way.
What's the right amount? You need to give your possessions and wall hangings room to breathe. Swap that photo collage for a single photograph (you'll have room to make it larger), or for a smaller group of photos hung with a little space between them to form a photo group that feels complete but uncrowded. Clear off shelf space so that the knickknacks, statuettes, and other collectibles and display pieces that you keep get the full attention they deserve.
Next up is presentation. Loose photos are for dorm rooms, so step up your frame game — or, better yet, print out your photos on high-quality canvas. An instagram canvas print can bring your social life (and social media life) into your home in a beautiful way, and it's not hard to get a post turned into a custom print from a reliable company. Hang that on the wall and give it plenty of space. Nearby, you can add a shadow box for collectibles or find space for a new bookshelf or display unit.
There's not as much conflict between Instagram-ready showrooms and personal spaces as you might think. Show your personality tastefully, and create a room that is relaxing and beautiful while still being undeniably yours. It will be more comfortable than any dorm room or soulless showroom, because it will be your perfect space.